"Ivy you were lovely! Our evening could not have been more perfect.... Thank you so much." Jill & Robert
"Ivy officiated a lovely ceremony for us. She was so accommodating to ensure the ceremony went exactly how we wanted it to. She is incredibly knowledgeable. It was so special for us that she was willing to allow our brother in law to co-officiate, she sat down with him and made sure he felt as prepared as possible. It was the most perfect day!" Emma & Tony
Legal Requirements
Marriage Licence from an Alberta Registry Agent. For locations, contact the Service Alberta Call Centre at 780-427-7013
2 Witnesses 18 years or over present at the ceremony [no residency or citizenship requirements for a witness]
Required Statements according to the Marriage Act that must be part of the ceremony include 1. "I do solemnly declare that I do not know of any lawful impediment why I, (name), may not be joined in matrimony to (name). 2. "I, (name), do take you, (name), to be my lawful wedded (wife/husband/spouse/partner).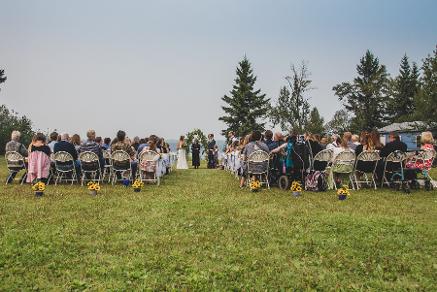 Personalized Vows and Practices
Besides the legal requirements that must be included in the ceremony, I am here to assist and support couples in developing their own personal touches - including vows - into their special day.
Some personal practices include the addition of Unity Candles, Hand- Fasting Ribbon, family or friends reading from poems or prayers, Sand Circles, Lock of Hair in a Silver Box, the Loving Cup/Quaich, Smudging, Pledge of Heart's Desire, Commitment Box, Warming of the Rings, Labyrinth Walk, 'Gather 'Round', Time Capsule, Jump the Broom, Couple Encircle, Wreath Connection, Fisherman's Knot, Celtic Sundial Ceremony, Braiding the Rope, to name just a few.
"That was the absolute perfect ceremony for us! We appreciate you being a part of our day!" Courtney & Ryley